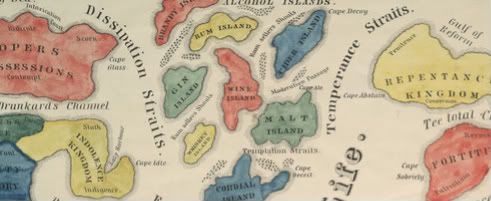 Here's an excellent and crazy map (click on it for full size) detailing the dangerous waters of the demon drink, showing how best to navigate your way around the Reprobate Empire, Blasphemy Gulf, the Indolence Kingdom, and the Lunacy Province, through Perseverance Bay and the Friendship Regions and into Abstinence Sea.
Not that there's anything there once you get there. I mean, you know what W.C. Fields said about water. Take me back to Lazy Harbor, and remember me to Cape Despair.
Life is an Ocean, both extant and wide; Man's the Ship, that doth o'er its surface glide; Happiness the Port, we ever strive to find; Temperance must be the Pilot, to navigate the mind; Reason then takes the helm, free from doubt, To steer the course - as by Heaven pointed out.
[Found via a friend at Strange Maps]